Sidhu Moose Wala Cremation Singer Moose Wala Decorated Like A Groom Makes Final Journey On Favourite Tractor
Sidhu Moose Wala Creation: Famous Punjabi singer Sidhu Moosewala was cremated on Tuesday at his native village Musa in Mansa district. Where a large number of people gathered to bid him farewell. Sidhu Musewala (28) was shot dead on Sunday. The singer's body was brought to his house in Musa village under tight security from Mansa Government Hospital on Tuesday morning. His postmortem was done at Mansa Hospital. His parents and other relatives sitting near his body in Musewala's house were in a bad condition. Musewala's mother was seen consoling her father.
At the same time, a large number of people came from many places including Punjab, Haryana, Rajasthan and Chandigarh to get the last glimpse of their favorite singer. Musewala was decorated like a groom for the last rites. There is such a custom on the death of an unmarried youth in the state. Musewala's mother groomed his hair, while his father tied a red turban with sehra on his head. Sidhu Musewala was going to get married after 6 months. It is being told that Sidhu's marriage was fixed in October. The girl with whom he was to be married is also in a bad condition by crying.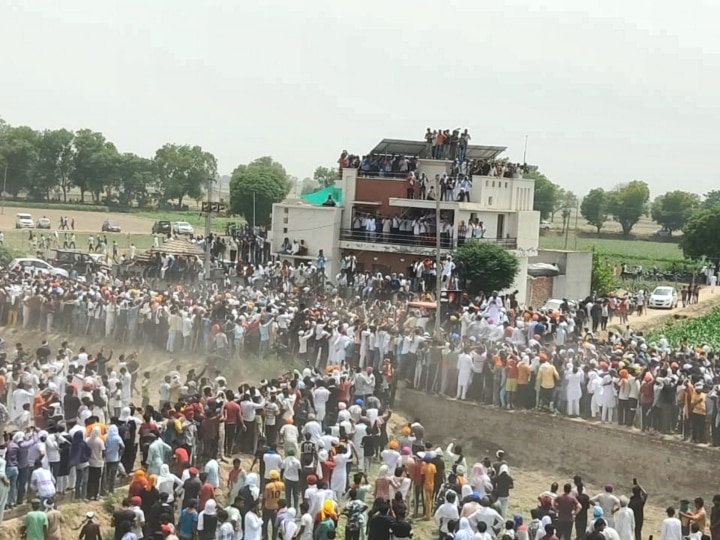 Last journey on favorite tractor
For Musewala's funeral, his favorite tractor was decorated with flowers and on this Musewala was taken to a family farm for the last rites. Moosewala had shot many of his songs on this tractor. Even amidst the scorching sun and heat, people joined Moosewala's last journey and during this time his parents were standing on the tractor with folded hands. Some of Musewala's fans who attended the funeral were wearing T-shirts with his picture.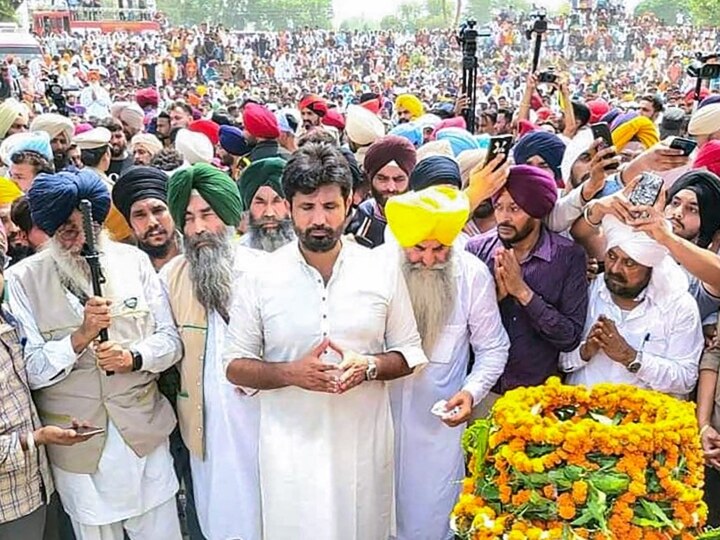 Seeing the sad people, the father took off his turban
Moosewala's father Balkaur Singh took off his turban after seeing a large number of inconsolable people. Congress's Punjab unit president Amarinder Singh Raja Wadding was also present in the last visit. Earlier, Congress leader Sukhjinder Randhawa, BJP leaders Ashwini Sharma, Subhash Sharma and Rana Gurmit Singh Sodhi met Musewala's family members and consoled them. Heavy police force was deployed at the singer's residence and at the funeral site. During this, some people were seen praising Moosewala and raising slogans, while some people expressed their displeasure with the Punjab Police for the withdrawal of his security.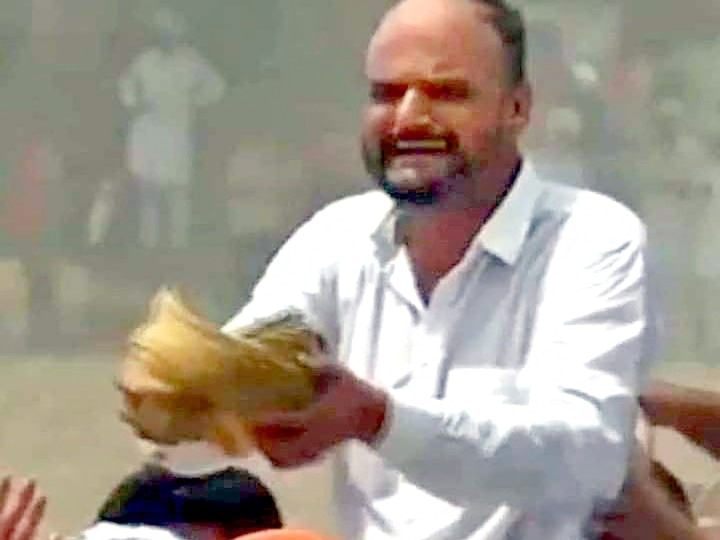 murder took place on sunday
Let us tell you that Shubhdeep Singh Sidhu alias Sidhu Moosewala was shot dead by unidentified assailants in Mansa district of Punjab on Sunday. He was traveling in his Thar jeep at the time of the attack. One of his relatives and a friend who was accompanying him in the vehicle were injured in the attack. Musewala also contested the Punjab Assembly elections from Mansa on a Congress ticket. But he had to face defeat from Aam Aadmi Party's candidate Vijay Singla. He was assassinated a day after the Punjab government withdrew his security. punjabi singer Sidhu Musewala Lawrence Bishnoi gang has taken responsibility for the murder.
read this also-
Free Electricity Connection: Shops of displaced Kashmiri Pandits will get free electricity connection, Delhi government's decision
Monkeypox Guidelines: Amidst the increasing threat of monkeypox, the central government issued guidelines, know what it said to the states?