Radhika Merchant Arangetram: Mumbai is a city with a generally vibrant cultural scene. It was silent or happened in the last few months. But once again it came alive with a scintillating performance of Bharatnatyam that everyone is talking about. This performance has been given by Radhika Merchant. Who presented 'Arangetram' after the completion of his dance education.
Radhika Merchant is a top-class Indian classical dancer and the 'bride' of Anant Ambani, the younger son of Nita Ambani and Mukesh Ambani. Many celebrities from the city were present at the Grand Theater at Jio World Center, BKC on Sunday to support and encourage Radhika's first on-stage solo performance. Many Bollywood celebrities along with Merchant and Ambani family also attended Radhika Merchant's 'Arangetram Ceremony' and encouraged Radhika. Many celebrities including Salman Khan and Ranveer Singh had arrived.
large number of spectators gathered
A large number of viewers gathered to watch this show and to cheer for Radhika Merchant. Merchant and all the members and close people of the Ambani family were present on this occasion. It included all the personalities related to art, business and public service. The excitement among the guests was worth seeing as the guests were moving towards the Grand Theater of Jio World Center via Dhirubhai Ambani Square.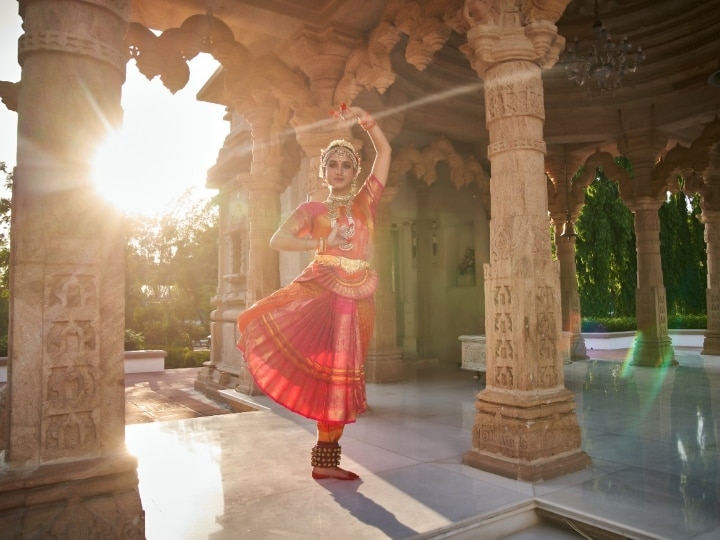 Guests arrived in traditional dress
Most of the guests arrived in their traditional attire. While the women were in brocade and embroidered silk saris, the male guests were seen in sherwani and kurta. During this, the Ambanis and Merchant family members warmly welcomed each and every guest. During this, all the Kovid protocols were also strictly followed. All the guests were tested for Kovid before joining the program. Looking at everyone's safety, all the guests happily agreed for the test.
Radhika Merchant gave a strong performance
Radhika Merchant mesmerized everyone with her performance. It was a very happy moment for him and his mentor Ms. Bhavna Thakar as he had trained Radhika in Bharatanatyam for more than 8 years to prepare for her Arangetram. Let us tell you that Arangetram is a moment when a young classical dancer performs on stage for the first time and showcases her years of hard work. The word also signifies the dancer's graduation to perform classical dance on stage and to train others.
Second Bharatnatyam dancer to be in Ambani family
Incidentally, Radhika Merchant will be the second Bharatnatyam dancer in the Ambani family after Nita Ambani. Nita Ambani herself is a trained Bharatnatyam dancer and performs Bharatnatyam despite her national and international responsibilities. Radhika's performance included all the traditional elements of Arangetram. At the end of the show, the guests present there greeted Radhika with loud applause.
read this also-
Ammy Virk Postpone Movie: Sidhu Musewala After the death of Amy Virk postponed the release of her film, said this
Delhi Congress Resolution: Rahul Gandhi becomes party president, Delhi Congress passes resolution