Irfan Ka Cartoon: The rift between Samajwadi Party President Akhilesh Yadav and uncle Shivpal is increasing. Along with this, the growing closeness of Shivpal Yadav with senior SP leader Azam Khan has also drawn a line of concern on Akhilesh Yadav's forehead. There are frequent meetings between Azam Khan and Shivpal. Famous cartoonist Irfan has made a cartoon about this.
What has Irrfan shown in the cartoon?
Irfan has shown in his cartoon that Shivpal Yadav is locked in a sack of flour, on which it is written – 'Shivpal Atta.' In the cartoon, Akhilesh is standing in front of Shivpal and is saying- 'The bread of the present cannot be made from the flour of the past.'
watch cartoon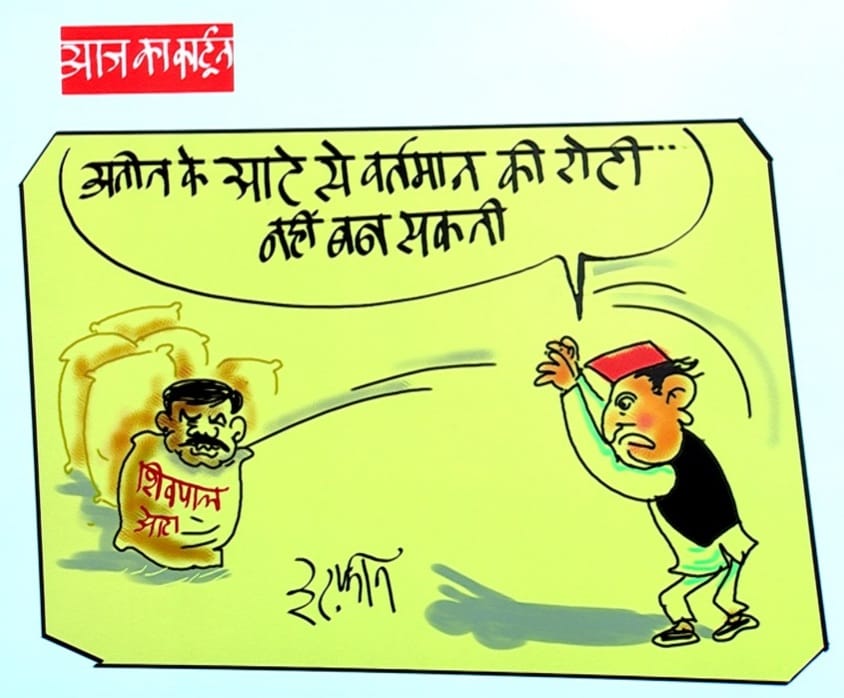 Then both the leaders started collapsing in the old color
Actually, there is a rift between Akhilesh and uncle Shivpal Yadav since the 2017 UP assembly elections. However, in the assembly elections 2022, Shivpal Yadav's closeness with Akhilesh increased and he contested and won the election on the ticket of Samajwadi Party. However, the Samajwadi Party was defeated in the election. After this, both the leaders again started collapsing in the old colors.
According to sources, Azam Khan and Shivpal have been discussing political possibilities for themselves. The two leaders were neither consulted nor informed about the party's stand in the upcoming Rajya Sabha elections and then the Presidential elections. In another development, Shivpal has written a letter to the Speaker regarding allotment of a seat keeping in mind his stature in the Assembly. Shivpal is a six-time MLA, but was given a seat in the third row. Assembly officials said the seat allocation for the party members was done on the advice of their legislature party leader Akhilesh Yadav in the matter.
Also read-